Athletics at RGS takes place within our PE programme, as well as in Games and after-school practices. The programme is structured into individual and team competitions.
Athletics at RGS Worcester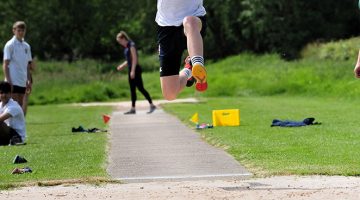 Specialist coaching and a twice weekly club to develop skills are enjoyed by many pupils.
Individual Competitions
Athletes who wish to compete in events based on their individual performance can be entered into the District Championship where they will compete against local schools within the Worcester area. Athletes can compete in a combination of any two-track and/or field events, so this is a great opportunity to try different events. Placing First, Second or Third will qualify them for the next round of the competition. This competition pathway is for the following ages:
Under 14s (Year Eight)
Under 15s (Year Nine)
Under 17s (Year Eleven)
Seniors (Lower and Upper Sixth)
Those who place First or Second in the District Championships will qualify to compete at the County Championships. This gives athletes the opportunity to compete against the best within the county of Hereford and Worcestershire in their respective age category. Placing First or Second during this competition will qualify them for the Mason Trophy which is a national competition.
RGS has a number of very talented athletes who compete out of school for clubs such as Birchfield Harriers and we see it as our role to support their athlete potential.
Team Competitions
For athletes who wish to compete in their individual events but score points as part of a team, can compete as part of the English Schools Track and Field Cup. Athletes will be scored based on their performance, not their position, which contributes to an overall team score. Teams that place 1st within their first-round competition qualify for the English Schools Track and Field Cup Final.
To round off the Trinity term, athletes will partake in our RGS Worcester Sports Day. All Houses form teams in the attempt to score points for their House and win the competition. Staff and parents are welcome to watch and celebrate the athletic achievements of the pupils.