About RGS Dodderhill Nursery
Our nursery here at RGS Dodderhill is tailored to the needs of our youngest pupils (from 2 years of age), in an environment where children can learn through play and adventure, both inside and outside. It is situated at the heart of our school, and benefits from superb facilities and specialist teachers on site.
The nursery operates between 8.00 am – 6.00 pm Monday to Friday, and is split into three age banded groups:
The Squirrels group is for children from 2 to 3+ years

The Hedgehogs group is for children aged 3+ 
The Owls group is for our pre-school children
We follow the Early Years Foundation Stage curriculum, underpinned by the early learning goals. We carefully monitor the children's progress in these areas and provide learning opportunities tailored to the individual's needs. Much of the children's learning is through play-based activities and adult-led focused activities.
At RGS Dodderhill we understand that choosing a nursery for your child is one of the most important decisions you face. We pride ourselves on working closely with you to get that transition right.  Please come and visit us so that we can show you around our very special setting.
Nursery School Routine
The Nursery school routine is important for children as it provides them with a feeling of familiarity and structure – if they know what to expect then they will feel more confident and relaxed.
The Nursery is open from 8.00am to 6.00pm and our day includes adult-led circle times and activities, as well as constant free-flow access to our outdoor play areas and lots of child-initiated opportunities.
7.45am to 8.30am
8.30am to 10.15am
10.15am to 10.30am
10.30am to 11.00am
11.00am to 12.00pm
12.00pm to 1.00pm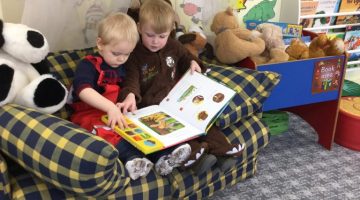 1.00pm to 2.00pm
2.00pm to 3.30pm
Early Years Foundation Stage
We plan activities in line with the Early Years Foundation Stage Framework, which focuses on the importance of child learning through play and provides the principles for the care for children from birth to 5.
The seven main EYFS areas of learning are used to ensure that the activities provided to children are fun, engaging and specific to all abilities and needs. Staff provide a wide range of activities for children including child-initiated and teacher-led activities that support learning and development. We work with parents to share developments at home as well as those at Nursery to ensure we carefully track every child's development in the seven key areas of learning.
We carefully monitor every pupil's progress against the Early Learning Goals. Parents receive regular reports and updates about progress in Nursery and we always share the children's achievements at home through our WOW moments. We use a daily diary for communication, and also have personal feedback at the start and end of every day. We keep Learning Journals that build up into a treasured keepsake for parents over the year.
Nursery is also an important, fully integrated, part of our school. All our Nursery children take part in school events such as Christmas plays, Sports Day, Mothers Day, Harvest Festival and Activities Week.
Forest School
RGS Dodderhill Forest School in Worcester and Droitwich provides children with the perfect woodland and natural environment. Children visit the Forest School every week.
Week 2 Lunch

Monday

Tuesday

Wednesday

Thursday

Friday

Soup and homemade bread
Minted pea
Tomato and basil
Broccoli
Leek and potato
Vegetable
Main course
Turkey or vegetable chow mein with sweet chilli sauce, soy sauce, chilli flakes, siracha sauce, sesame seeds
Roast chicken leg

or

Caramelised onion and sausage roll
Lamb chilli con carne

or

5 bean chilli

With giant nachos, crispy jalapenos and cheese sauce
Smoked bacon, ham and mozzarella pasta bake
Battered fish, tartare sauce, lemon wedges

Beef burger, pickle, lettuce and mustard
Vegetarian
Vegan yeung chow friend rice
Mixed vegetable and lentil wellington
Smokey roasted Mediterranean vegetable and tomato gnocchi
Spinach, filo and feta pie
On the side
Chinese spice greens
Broccoli
Prawn crackers
Roasted new potatoes
Savoy cabbage
Root vegetables
Coriander rice
Toasted corn
Garlic bread
Dressed salad
Green beans
Chips
Baked beans
Garden peas
Jacket potato
Baked beans
Baked beans
Baked beans
Baked beans
Baked beans
Hot dessert
Coconut rice pudding with mango coulis
Plum and baked apple oat crumble with custard
Ginger cake
Hot chocolate sponge with chocolate sauce
Superseeded flapjack
Cold dessert
Strawberry jelly
Mango mess
Vegan raspberry mousse
Orange jelly or yoghurt pots
Vegan brownie
Cut fruit
Pineapple and black gape
Watermelon and plum
Melon and kiwi
Orange
Mixed fruit pots
Moving to Reception Class
In September before they turn 5, children will be moving to Reception class from the Nursery. Here at RGS Dodderhill Nursery, we ensure that each child's transition to Reception is as easy as possible, whether they are staying with us in the school or moving on elsewhere.
Your Child's Key Person will have completed an Early Years Foundation Stage Profile which is passed on to their teacher to support them with each child's needs.
Reception Daily Routine
7.45am to 8.30am
8.30am to 10.15am
12.00pm to 1.00pm
1.00pm to 2.00pm
2.00pm to 3.30pm