GCSE Successes at RGS Worcester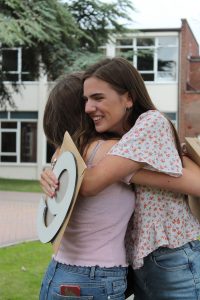 RGS Worcester's GCSE results were being celebrated as the School achieved amongst its best ever results. With nearly 40% of grades at the top level (grades 9 or 8) and 60% of grades at 9-7, with 98% of all grades at 9-4 (A*-C), the pupils were delighted with their performance.
After RGS Worcester pupils achieved such strong GCSE results this year, amongst those celebrating was Will Osborne who achieved 10 GCSEs at the top 9 grade. Will is one of the leading Fencers in his age group nationally. Liam Leonard also achieved all 9 grades in 10 GCSE subjects. Liam is one of the very best young musicians in Worcestershire; he is a Grade 8 Double Bass and Diploma pianist, who won the Bromsgrove Music Festival last year.
Darcey Chambers, who is a leading actress in productions both in and outside school, achieved 10 GCSEs, all graded 9-8 despite a busy performance schedule. Severn Stars Netballer, Emily Seymour-Perry attained 10 GCSEs all at 9-7 grades and Ben Sutton, who has been playing in the England Physical Disability Cricket team in the World Series this summer achieved 10 GCSEs with 8 reaching the top 9 and 8 grades. England Under 16 Hockey player, Izzy Nott, also achieved 9 GCSEs with several graded 9-7.
Leading national footballer Seb Thompson, who recently signed for Derby County FC on a Scholarship and is already training at the Club where Wayne Rooney has also recently signed, achieved a very strong set of GCSEs with 7 at grades 9-7. He achieved this success whilst playing football for Liverpool FC on day release and for England Under 16s during his GCSE courses, which is a superb achievement.
Twins James and Malachy Larkin were also celebrating with 20 GCSEs achieved between them, 16 of them at the top 9-7 grades.
With so many success stories and such strong GCSE results, the pupils can now go on to achieve great things in the Sixth Form at RGS Worcester.